We work in in Stamford, Peterborough and the Neighbouring Areas
Home and business owners often take their driveways for granted, focusing their time on internal renovations. While these improvements will increase your property's appeal, it's a mistake to let your driveway fall into disrepair. Advanced Builders installs new driveways for clients across Peterborough, Stamford and the surrounding areas at a competitive price. We offer a range of materials and perform a full design and installation service.
As members of the Federation of Master Builders and Build Assure, we supply a meaningful guarantee for each new driveway. Our team provides a number of benefits and services:
• Free advice from a passionate team
• The careful removal of your old driveway
• Drainage and sub-base installation work
• A wide variety of materials to choose from
• Design and planning from expert landscapers
• Project management with great timekeeping
If you're looking to improve your property's landscape with a new surface, please get in touch to arrange a site visit. We deliver high-quality results, whether it's a domestic driveway or a commercial surface in the local region.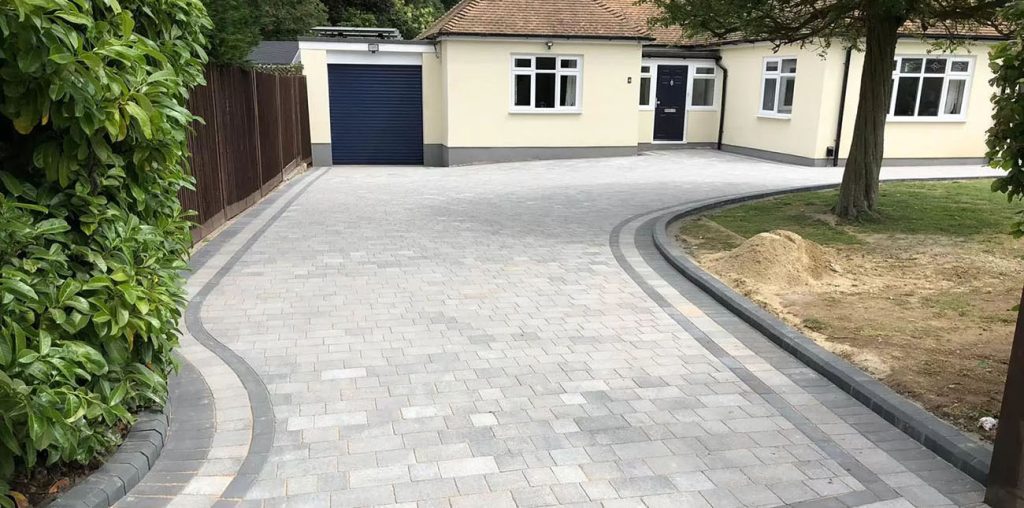 Driveways | A Resilient Surface for Lasting Quality
Time can play havoc with an outdated driveway, leaving it broken or full of weeds. An uneven surface and poor drainage can lead to standing water, which only causes further problems. For these reasons and more, it's always a great idea to keep your driveway in the best condition possible.
We allow our clients to choose from the following materials.
Block Paving – Few options prove as versatile as block paving. Built on a sub-base and compacted for strength, these blocks can be removed individually if they suffer damage. This means you won't always need a new installation, depending on the extent of the problem. At Advanced Builders, we lay block paving in various colours, from rich reds to slate greys, and combine multiple patterns and colours for a unique appearance.
Indian Sandstone – Famed for its natural aesthetic, this elegant stone is available in various shapes and tones. It's great value for money and lends a touch of class to driveways throughout Peterborough, Stamford and the neighbouring regions. Naturally veined and featuring a slight sparkle, Indian sandstone proves highly popular.
Gravel – Made from colourful aggregates for a unique texture beneath your feet, gravel is often the preferred choice for prestige homes. This option remains a favourite because of its durability, and because it features loose stones, it'll never split like alternative materials. You only need to regrade the surface on occasion to replenish any lost aggregates.
Concrete – Known to endure the worst weather conditions, concrete achieves a low-maintenance surface. It's easy to clean with a pressure hose or manual sweeping and provides simplicity for those looking for a no-fuss solution.
Tarmac – Tarmac blends a smooth finish with skid-resistant properties. Easily recycled, it also serves as an eco-friendly option. You could even combine tarmac with block-paved edging for a style that sets your property apart from nearby homes.
Resin – Driveways need efficient drainage if they're to last long into the future. Our team can provide a resin-bound installation that features no loose stones but allows rainwater to drain away safely. This innovative material resists weeds, petrol spills and keeps its colour due to resistance to abrasion and UV rays.
---
For driveways in Peterborough, Stamford and the nearby regions from a design-and-installation team, call today on 0800 246 1520
or use our contact page for a hassle free no obligation estimate
---
We're more than just extension builders