Property Refurbishments in Peterborough, Stamford and the Surrounding Areas
Your home is the most important investment you'll make, so it deserves professional care to stay in peak condition. Business owners also need to maintain their properties to keep staff and visitors happy, as outdated décor can send the wrong message. Whether you're looking to revitalise your family home or hoping to transform your business to suit changing business goals, Advanced Builders is here to help. We perform property refurbishments across a wide region – from our hometown of Peterborough to Stamford and the surrounding areas.
Age can cause a space to look out of date, and you may notice signs of physical damage. With a passion for property refurbishments and structural renovations alike, we modernise properties with a focus on the client's needs.
We provide:
• Design, planning and architectural services
• Risk assessments for health and safety
• All interior and exterior changes
• Full and partial refurbishments
• Structural and decorative alterations
• Bathroom and kitchen remodelling
• Bespoke installations using quality products
• Excellent timekeeping for a fast turnaround
Find out what makes Advanced Builders the preferred choice by visiting our testimonials page. We comply with building regulations, manage every part of the project and have a detailed knowledge of today's materials, meaning a hassle-free service that delivers on quality.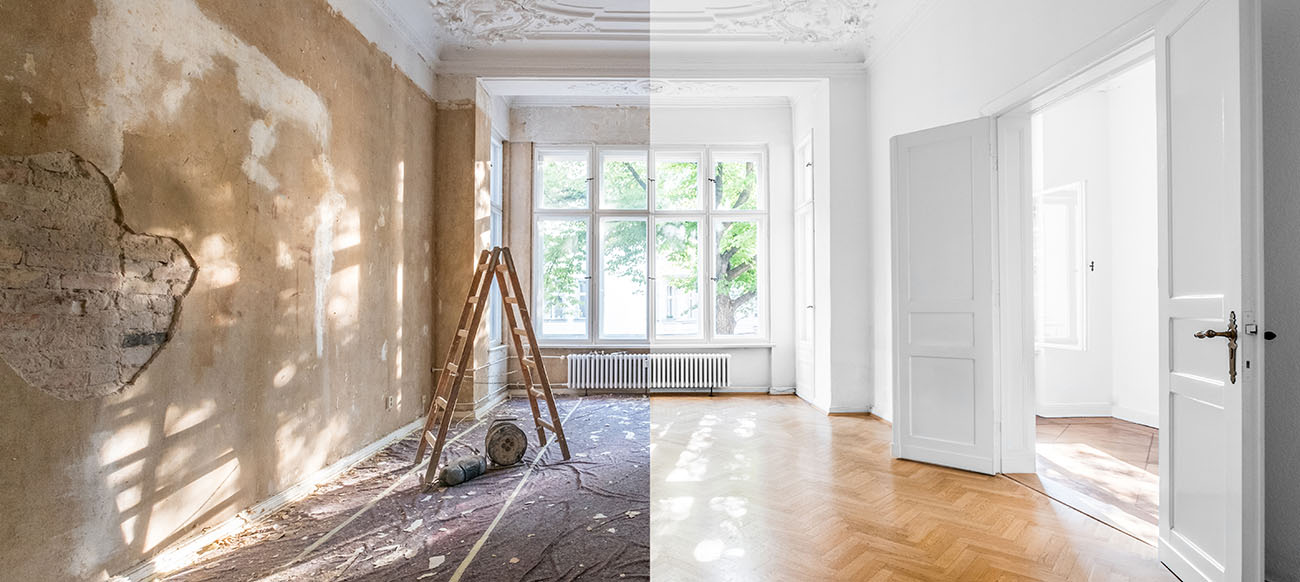 Property Refurbishments | Making Your Ideal Space a Modern Reality
We'll talk through your wants and needs before scheduling a risk assessment. This reduces problems on-site and enables us to plan efficiently for results that surpass expectations. As with all of our work, we supply decade-long guarantees and can provide further peace of mind through our membership with the FMB.
Bringing Your Home Into the Present Day
Property refurbishments can modernise a single room or the entire house. You could choose to update the kitchen for a more enjoyable cooking experience, turn the bathroom into an inspired suite or make your dreary lounge into a brighter seating area. In addition, refurbishments and renovations give you a chance to rectify problems with the structural integrity and replace old windows, doors and roofing for improved efficiency. In turn, you could spend less on heating in the winter.
Advanced Builders uses Gas Safe personnel and members of the NICEIC for electrical work. We apply this dedication to safety to all building services that your project may need.
Refurbishing Your Commercial Space
If your business in Peterborough, Stamford or the neighbouring areas starts to look tired, you'll need to take action before it affects the working day. Property refurbishments give you a chance to transform the retail space or office for better efficiency and can make a real difference to those you work with. Not only does refurbishing show that you care, it also helps staff to stay motivated and feel proud of what they do.
Attract the right clientele and impress visitors by refurbishing with Advanced Builders. We minimise disruption by completing projects as quickly as we can, working with meticulous care so that your business can grow in the coming years.
---
For property refurbishments in Peterborough, Stamford and the nearby regions from a design-and-installation team, call today on 0800 246 1520
or use our contact page for a hassle free no obligation estimate
---
We're more than just extension builders